42" Panels vs 48" Panels
We offer both 42" and 48" Steel Walls. 42" Wall panels are standard for our pool kits. A 42" wall panel provides a standard 3'4" shallow end depth which is great for kids and . The 48" wall panel is becoming very popular especially among those who play pool sports as the taller panel provides a deeper shallow end without sacrificing flat area. 
Advantages of a 42" Wall:
Advantages of a 48" Wall:
Standard shallow end depth
Lower Price!
Great for kids!



SAFER for Diving!!
Deeper Shallow-End without large side slopes
Deeper Deep-End without larger side slopes
Puts water level in more ideal placement
Perfect for playing pool sports!
---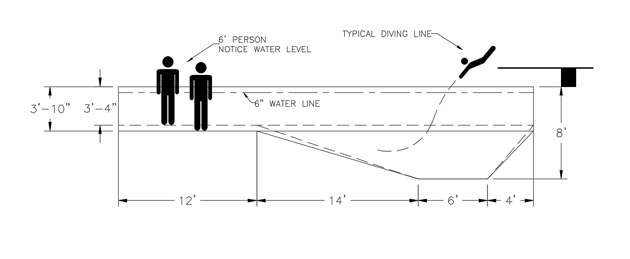 As you can see in the diagram, the 42" panel is depicted by the dotted line whereas the 48" panel is the solid line. The 48" panel offers a more ideal water level so that standing in the shallow end is an enjoyable hangout area for adults. In addition, due to the 6" of added depth, the slope leading to the hopper is more gradual than in a 42" wall pool - This leads to a safer diving pool by providing additional space for a diver to arc and surface without risk of hitting their head.