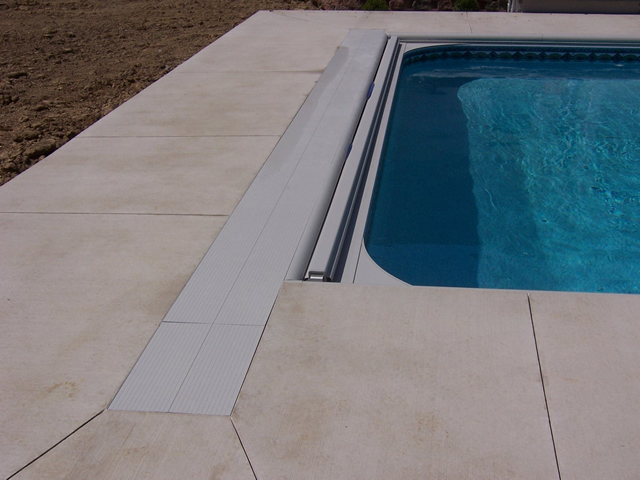 click image to enlarge
These rectangle pool kits have been created by our own pool specialists to ensure each component will operate together properly and reliably when installed correctly. There are many different sizes available from 12' x 24' up to 24' x 44' and each can be chosen with 6" or 2' radius corners. Please choose and customize your kit using the links below. Additional information on both the automatic cover system and the pool kit may be found below.



Pool Information
Rectangle pool kit prices include: in-pool corner steps (required for automatic cover), in-wall ladder (required for automatic cover), handrails, pool panels, adjustable braces, bolts and hardware, re-bar stakes, aluminum coping with cover track, swimming pool liner, 1 skimmer, 2 main drains, 3 pool returns, Hayward 1.5 hp pump, 24" sand filter, maintenance kit, rope kit.
Cover Information
The under the coping system requires a little more ingenuity to install than other types of automatic cover systems because the pool walls must remain parallel and squared. Each system includes a step by step manual. Limited toll-free technical support is available for automatic cover systems. An automatic safety cover will increase your pools safety factor as well as allow the homeowner to save money on water and chemicals and save cleaning time. The heavy duty vinyl cover is available in 7 different colors and includes a 5 year limited warranty.
Can be used with an 8' diving board. Install the cover box a minimum of 10" or up to 24" from the pool's edge. Minimum set-back needs to be 10" so the cover's leading edge bar does not hang over the waters edge when the pool is open. Wheel assembly and leading edge bar rest 10" from front of aluminum lid.


Includes heavy duty motor with Key Switch or Touchpad operation - please specify when ordering.


Includes automatic cover pump to keep rain water off the cover.