Bull Steer 24" Grill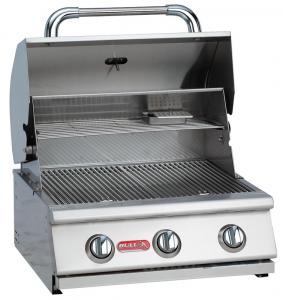 click image to enlarge
The 24" Steer Grill features a 30,000 BTU total output from 3 stainless steel tube burners. In addition, this grill has a warming rack, smoker box, and over 550 sq. in. of cooking surface! This is in addition to all of Bull's standard quality features which include full 304, 16 gauge stainless steel construction, a single piece dual lined hood, piezo igniters with zinc knobs, solid 304 stainless steel grates, and a lifetime warranty on all 304 Stainless Steel parts!
The Steer is available as a natural gas or propane powered grill and will fit nicely in any new grill island. If you aren't going to be putting the Steer in a grill island, consider purchasing it with a grill cart specially designed for the Steer! The cart features 304 Stainless Steel construction, has doors in the front that allow easy access to your propane tank or other items you may want to store underneath the grill. It also provides adequate food preparation space, utilizing stainless steel shelves on either side of the grill.
Code
Description
Price

---

06328 LP
Steer Drop-In Grill Head (Propane)
$927

---

06329 NG
Steer Drop-In Grill Head (Natural Gas)
$927

---

06332 LP
Steer Grill With Cart (Propane)
$1337

---

06331 NG
Steer Grill With Cart (Natural Gas)
$1337

---
Specifications and Downloads
30,000 BTU's
304, 16 Gauge Stainless Steel Construction
3 Stainless steel burners
Single Piece Dual Lined Hood
Piezo Igniters/Zinc Knobs
Solid Stainless Steel Grates
Heavy Duty Thermometer
Warming rack 160 Sq. In.
Built in trim kit
Smoker box
Cooking Surface 556 Sq. In.