Swimming pool filters come in a wide variety of sizes and models but there are three primary types of filters. They differ in the material they use to filter the water. These three types are Sand, Cartridge, and Diatomaceous Earth (commonly abbreviated D.E.). Read more about each type below. We have a wide selection of the best filters on the market, so the choice is yours!
If you have an existing pool pump or you would like to purchase a pool filter separately please click the links below. To view Complete Filtration Systems including both the pump and filter please click here.
Sand Filters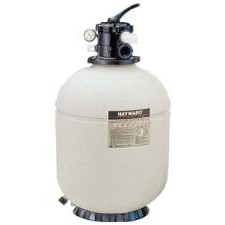 Sand filters are the most common pool filters available because of their low cost and ease of use. Sand is used as the filtering media and is relatively inexpensive. These filters are effective for most home installations.
---

---