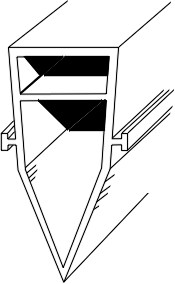 click image to enlarge
The Frontier Deck Joint is an extruded PVC deck joint material available in 12 foot lengths. This product is placed into freshly poured concrete to create an effective weakened plane. Frontier Deck Joint's design features "T" members that provide a water stop. If a full expansion is necessary, or a detailed pattern is desired, use Frontier Deck Joints in combination with Frontier Rigid Hold.
These deck joints are available in white or tan and come come in 12' lengths.
Part #
Frontier Deck Joint - 12' Lengths
Price

---

SDJ1W-10
White - (10) 12' Lengths
$199.99

---

SDJ1W-20
White - (20) 12' Lengths
$299.99

---

SDJ1T-10
Tan - (10) 12' Lengths
$199.99

---

SDJ1T-20
Tan - (20) 12' Lengths
$299.99

---
Additional Media
Stegmeier Frontier Deck Joint Installation and Product Video