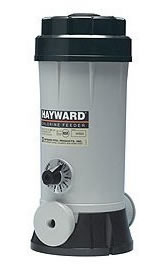 The easy, economical and professional way to chlorinate your inground pool - automatically. Hayward's efficient, corrosion-proof automatic feeders install easily on new and existing pools, and hold up to 9 lbs. of large or small Tri-Chlor slow-dissolving tablets or sticks - enough to provide a three week supply of chlorine sanitizer for larger inground pools (and even longer for smaller pools). The easy to use integral dial control valve lets you accurately adjust the rate of chlorination needed to keep your pool sparkling pure and inviting.
---

CL110
Hayward CL110 Std Capacity (4.5lbs)
$67.99

---

CL220
Hayward CL220 Large Capacity (9lbs)
$89.99
---
Features
Easy-Lok Cover Assembly - has thread-assist mechanism to provide dependable sealing plus convenient access for adding tablets or sticks.
Chlorine Chamber - has extra large capacity. CL-100 series feeders hold up to 4.2 lbs. of Tri-Chlor tabs, while the larger CL-200 series has a 9 lb. capacity to meet the requirements of all sizes and types of pools. Corrosionproof, versatile design accommodates large or small slow-dissolve tablets or sticks.
Dial Regulating Valve - is easy to use and lets you control and adjust the rate of feed for your pool's variable requirements and chlorine demand.
Feeder Tube - provides controlled outlet flow of highly concentrated chlorinated water plus serves as an auto air relief to expel entrapped air from the chlorine chamber.
Versatility - for new or existing pools. Select either direct in-line or off-line unit to make installation easy for your pool or spa system.