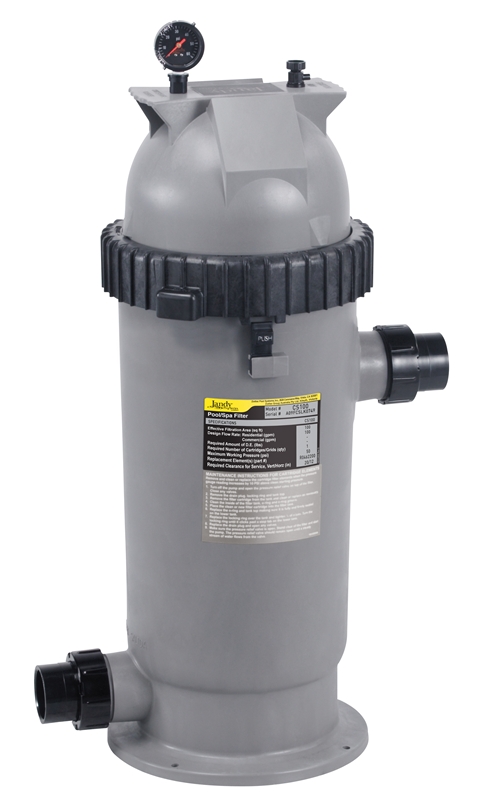 click image to enlarge
The CS Filter line utilizes single element cartridges designed to provide the same great filtration as the Zodiac Large Tank Filter series in a compact body.
The cartridge element on the CS is easily removed, making it simple to clean and care for. The CS filter is just over a foot wide, making it the perfect choice for small equipment areas. It is designed for Zodiac's Versa Plumb® system to easily connect with the rest of your Zodiac equipment while using minimal space on the equipment pad. The CS filter features easy grip ergonomic handles and extra large drain ports in a small, compact thermoplastic body. It is available in four sizes; 100, 150, 200 and 250 square foot models.
The CS filters are technologically advanced and filled with many user-friendly features.
---

CS100
Jandy Cartridge Filter, Small Tank, 100 Sq Ft.
$329.99

---

CS150
Jandy Cartridge Filter, Small Tank, 150 Sq Ft.
$399.99

---

CS200
Jandy Cartridge Filter, Small Tank, 200 Sq Ft.
$479.99

---

CS250
Jandy Cartridge Filter, Small Tank, 250 Sq Ft.
$579.99

---

Click Here for Jandy CS Filter Replacement Cartridge Elements
Features
Includes a unique pressure gauge with a clean/dirty indicator that can be customized for each pool, making it easy to assess filter condition.
Ergonomic Lid Handles - The Jandy CS Filters feature comfortable, easy grip handles that make removing the lid simple.
Compact Body Design - The compact body of the CS filter is designed to fit in small areas without difficulty. The base will easily anchor to the equipment pad.
Versa Plumb - The CS Filter is designed to easily connect with other Jandy equipment via Jandy's exclusive Versa Plumb system.
Technical Details
Ergonomic, easy grip handles for ease of service
Extra-large drain port allows for easy cleaning of debris
High-impact, corrosion and UV resistant, thermoplastic tank body
Includes 2" x 2" universal unions
| Feature | CS100 | CS150 | CS200 | CS250 |
| --- | --- | --- | --- | --- |
| Filter Area | 100 ft.2 | 150 ft.2 | 200 ft.2 | 250 ft.2 |
| Design Flow Rate | 1 gpm/ft.2 | .85 gpm/ft.2 | .625 gpm/ft.2 | .5 gpm/ft.2 |
| Maximum Flow | 100 gpm | 125 gpm | 125 gpm | 125 gpm |
| Six Hour Capacity | 36,000 gallons | 45,000 gallons | 45,000 gallons | 45,000 gallons |
| Eight Hour Capacity | 48,000 gallons | 60,000 gallons | 60,000 gallons | 60,000 gallons |
| Normal Start Up Pressure | 6-15 psi | 6-15 psi | 6-15 psi | 6-15 psi |
| Max. Working Pressure | 50 psi | 50 psi | 50 psi | 50 psi |
| Cartridges Required | 1 | 1 | 1 | 1 |
| Shipping Weight | 28 lbs | 28 lbs | 34 lbs | 36 lbs |
| Height ("A") | 32 3/8" | 32 3/8" | 42 1/2" | 42 1/2" |