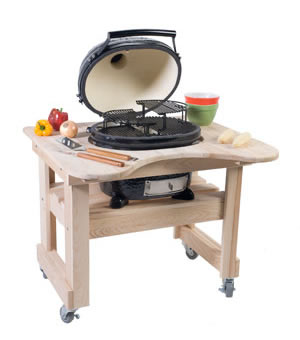 The patented Primo Oval Junior features up to 310 square inches of standard cooking surface! Other features include a cast iron chimney cap, easy to read thermometer, reversible cooking grates, stainless steel lower vent door and ceramic shoes.
The Primo displayed here shows the optional Cypress Cooking Station Table. Please see the accessories page for a complete list of Primo accessories.
$699.99
---
---
Specifications
The Primo Oval Junior requires 10 inches of clearance behind the grill to open properly. The depth of the Oval Junior is 16.25 inches.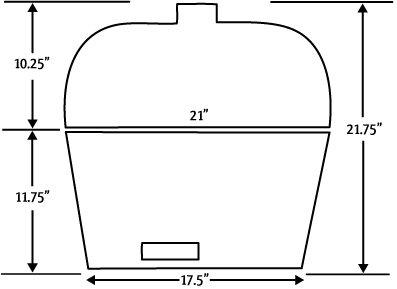 Important Notes: all dimensions are outside to outside measurements. These dimensions are for general purposes only. Due to the nature of kiln fired ceramics, these measurements should not be used for any application requiring detailed measurements. You should measure your actual Primo Grill prior to building any structure or cutting installation holes.
---
All Primo Grills Feature:
the ability to cook a wide variety of foods including steaks, chicken, pork, turkey, fish, pizzas, vegetables…you name it, that have an unbeatable taste!
the ability to grill and/or smoke while maintaining a consistent low temperature or high temperature
even heating across the entire surface of the grill
the highest quality grill and smoker made with SuperCeramics
a Primo commitment backed by a 20 year warranty
and the only ceramic grill proudly made in the USA