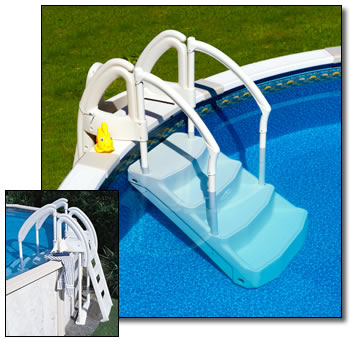 A BEAUTIFUL NEW DESIGN IN ABOVE-GROUND STEPS AT A GREAT PRICE!
The Royal Entrance features a clean, beautiful look in an easy-to-install design. This step is made from rugged polymer that requires no sand bags, which can be hard to put in and even harder to remove in the fall. The Royal Entrance has skid-resistant steps for sure-footed use and will fit either a 48" or 52" deep pool. New side barriers prevent children from becoming trapped underneath the step and make it compliant with all safety codes. Durable polymer handles make getting into and out of the pool a snap for the young and the old. Color is Pearl Grey.
For pools without decks, add the available ladder attachment kit. The Royal Entrance can hold up to 350 lbs. and measures 43" high x 34" wide x 42" deep. 1-Year Warranty.
NE103
Royal Entrance Above-Ground Step
$379

---

NE106
Safety Outside Ladder Attachment/Enclosure
$349

---
Safety Outside Ladder Attachment/Enclosure
The new ladder attachment and enclosure system has a self-closing self-latching panel that can be locked. Meets all national (BOCA) and local codes for ladder enclosures. The new ladder attachment enclosure fits all Wedding Cake and Royal Entrance Steps.
---

NE106
Safety Outside Ladder Attachment/Enclosure
$349

---