Inground Pool Custom Winter Safety Covers
Top quality Custom made swimming pool safety covers can be made to fit any pool. All covers comes complete with brass anchors, stainless-steel springs, installation tool and storage bag.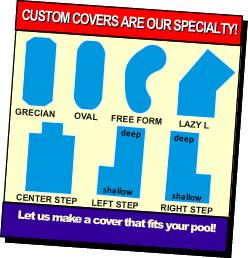 Click for Safety Cover Quote Form
Safety Cover Installation Manual
Safety Cover Template Matching
---

Custom sizes are priced by the cover square footage plus an additional charge for radius

or Grecian corners and for Oval or Roman ends. If the pool has a step extension the additional charge is added based on the step size. There is a charge for any obstruction like slide supports, permanent ladders or handrails that requires a cut out in the cover. Additional charges include anchors for a wooden deck or lawn anchors and a deck shorter than 3'. Other obstructions include stone walls or spill-over spas. Click your pool shape above to use the square footage calculator.

We also offer template matching for custom safety covers. If you would like to match the current strap and anchor locations of your current safety cover, we can now use your existing safety cover to create a new matched safety cover. Additional fees apply. click here for more information
---
Mesh or solid which safety cover is best? Advanced engineering safety covers so no child or pet can enter your swimming pool when it is closed. The advanced technology gives you 4,000 to 5,200 pounds of break-strength - by combining superior thread, mesh material and strap composition, A strong and durable mesh or solid with drain vents safety pool cover. We also have solid with automatic pump safety pool covers in most standard sizes. If you want quick delivery of our in-stock safety pool covers or would like a custom safety pool cover, you can be sure your family, your pool and your investment will be safe and secure for years to come.
Both the mesh and solid safety swimming pool covers provide superior protection for your family. Mesh covers do have one safety advantage: they do not permit water to collect. In order to meet safety cover performance standards, solid covers must provide for the elimination of standing water. Our solid safety cover is available in two versions: one with mesh panels that allow water to drain through, and an all-solid version that is always sold with an automatic cover pump. The pump must be used at all times in order to maintain the safety of the cover. The advantage of a solid safety cover is that it blocks 100% of the sunlight which helps prevent algae at the pool opening.
Why does the water have to be removed from the cover in order for it to be considered "safe." Collected water on a cover is a hazard in itself. There have unfortunately been cases of children and pets who have wandered out on a cover filled with water and slippery debris, become trapped and drowned. That is why the ASTM Performance Specification states that no pool cover can call itself a safety cover if it does not provide for water removal.