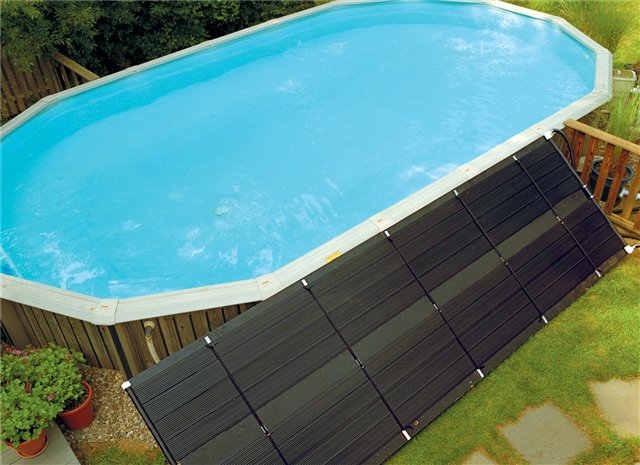 click image to enlarge
If you are tired of a cold swimming pool then a solar heater is perfect for you. Add weeks to your swimming season & swim in a warmer pool during the season with free heat from the sun. Scroll down to view all solar systems.
Slotted Panels for Trouble-Free Installation on Ground, Roof, Rack or Fence
Small Box Size for Easy Merchandising and Shipping
Raises Pool Water Temperature 6-10°F (4-6°C)*
Uses Existing Pool Pump
Patented Web Design for Maximum Exposure to Sun's Rays
Direct Flow System - One Header Hole for Each Heating Tube
All Connectors are Interchangeable with all Models
All Connection Hardware Included
*Actual temperature increases will vary depending on the weather conditions and exposure to the sun.
Pool Size
2' x 20' Panels
Price

---

Up to 24' Round or 15' x 20'
1
$179.99

---

Up to 31' Round or 18' x 36'
2
$279.99

---

Larger than 31' Round or 18' x 36'
3
$379.99

---

Solar Heater Accessories
Description
Price

---

Manual Diverter Valve Kit for Solar Heating System
$39.99

---

Roof/Rack Mounting Kit (Need 1 Kit Per 2 Solar Panels)
$49.99

---