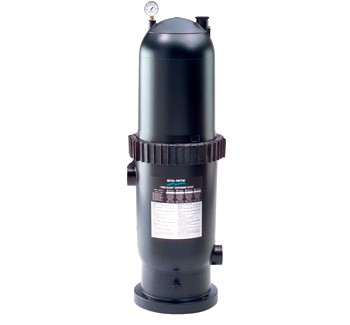 click image to enlarge
The Posi-Clear™ cartridge filter is designed to remove more dirt and impurities, leaving your water ultra-clear and alluringly fresh. And the specially-designed manifold cartridge is even capable of removing suntan lotion and body oils. Now that's squeaky clean! As an industry leader in pool filtration, Sta-Rite® has developed the technology to significantly extend the time between cleanings. You'll spend more time enjoying your pool and a lot less time maintaining it. That's the cleaning power of the Posi-Clear.
• Posi-Clear's filtration process provides superior water clarity and adds a sparkling shimmer by day or night.
• Built tough with high-density ABS thermoplastic for years of extended service.
• Posi-Ring® closure permits fast, easy access for routine maintenance.
• The Posi-Clear filter does not require backwashing, so chemically-treated, heated water is not wasted.
• Maintenance is as simple as spray rinsing the cartridge module with your garden hose.
Less maintenance . . . more cleaning power . . . crystal clear water . . . everything you'd expect from a world class filter. Pool professionals highly recommend the Posi-Clear™ filter for its affordability and performance, and consider it to be one of the best values in the marketplace.
Less maintenance . . . YES! The filter tank is designed to direct water through more of the filter's surface area, which boosts the cartridge's dirt-handling capacity without clogging. Increased dirt-holding extends the time between cleanings.
Spin and rinse - A quick spin of the Posi-Ring® closure and you have complete access to the filter module. Simply spray-rinse the cartridge and in minutes you're back to relaxation and fun.
Model #
Description
Price

---

PXC75
Sta-Rite Posi-Clear 75 Sq Ft Cartridge Filter
$269.99

---

PXC95
Sta-Rite Posi-Clear 95 Sq Ft Cartridge Filter

$309.99

---

PXC125
Sta-Rite Posi-Clear 125 Sq Ft Cartridge Filter

$379.99

---

PXC150
Sta-Rite Posi-Clear 150 Sq Ft Cartridge Filter

$439.99

---