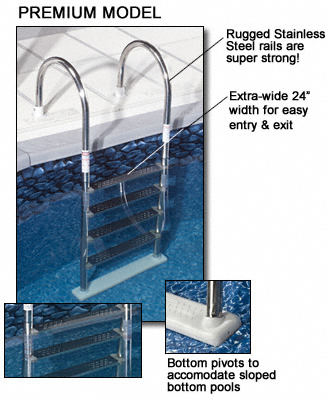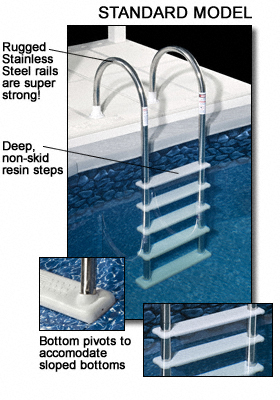 These super strong ladders bring the quality and strength of an inground ladder to your above ground pool!
These top quality ladders make exiting and entering your pool easier than ever before. Super strong stainless steel rails allow the ladder to easily accommodate 225 lbs.
We offer our Stainless Steel ladder in two models: Standard model with polymer non-skid steps and a Premium model with stainless steel steps that will not fade, crack or break. Our premium model is 24" wide to provide easy access. Both models' steps are extra deep for sure footing.
The ladders are designed to fit up to 54" deep pools. The base of the ladder pivots to conform to sloping bottoms for super safe contact. Standard Ladder comes with white plastic flanges and the Premium Ladder comes with aluminum deck anchors for secure deck mounting. Install our Standard Stainless Steel or our Premium Stainless Steel ladder this season at this great price! All stainless steel hardware included. 1-Year Warranty on both ladders.
NE122SS
Standard Stainless Steel In-Pool Ladder
$139

---

NE1145
Premium Stainless Steel In-Pool Ladder
$169

---

NE400
9" x 30" Ladder Pad
$29

---