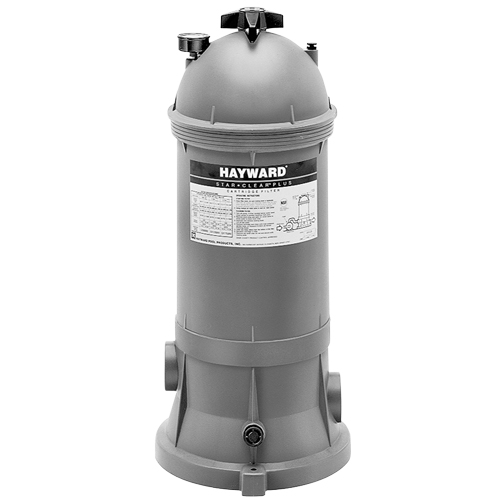 click image to enlarge
Star-Clear Plus filters from Hayward deliver quality value and convenience in cartridge filtration. From precision engineering to its reinforced thermoplastic body, Star-Clear Plus filters work hard, achieving maximum water flow and superior filtration with minimal maintenance necessary. Trust Star-Clear Plus filters to perform in the most demanding application and environmental conditions. Thanks to their large filtration element, they offer more effective filtration than other cartridge filters of similar size and price range.
---

C900
90 Sq. ft. Hayward Star Clear Plus Cartridge Filter
$329.99

---

C1200
120 Sq. ft. Hayward Star Clear Plus Cartridge Filter
$349.99

---
Features and Specifications
Single Locking Knob - securely fastens filter head to filter tank, eliminating clamps or bolts.
Filter Head - provides easy access to cartridge element. May be rotated to conveniently position gauge and
manual air relief valve.
Heavy-Duty Filter Tank - is injection molded of durable glass reinforced copolymer for dependable, corrosion-free performance.
Automatic Air Purge - purges any trapped air during filter operation.
Single-Element Cartridge - is engineered of high-quality reinforced polyester, with gasketed molded end caps, for maximum efficiency, easier cleaning and longer life.
Precision Engineered Element Core - provides extra strength and superior flow.
Elevated Filtered Water Collector with Debris Sump - prevents accidental bypass of heavy debris to pool
or spa when cartridge is removed for cleaning.
1½" or 2" FIP, or 2" SKT Connections - (adapters provided on some models) for plumbing versatility.
½" 14 NPSM Filter Drain - for fast draining. Also accepts standard spigot valve.
Model Number
Effective Filtration Area
Design Flow Rate
Turnover (In Gallons)
8 Hours
10 Hours
C900
90 ft.²
90 GPM
43,200
54,000
C1200
120 ft.²
120 GPM
57,600
72,000