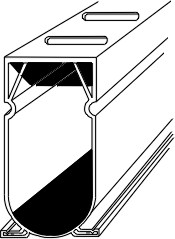 click image to enlarge
Stegmeier Corporation's Deck Drain is an extruded PVC drain that comes with connecting couplers and is designed to be set level. This drain is commonly used in pool decks, patios and other pedestrian traffic areas. Deck Drain is easy to install by staking on grade (no trenching required).
Stegmeier deck drains are available in white or tan and come come in 10' lengths.
Part #
Stegmeier Deck Drain - 10' Lengths
Price

---

D2W-8
White - (8) 10' Lengths
$399.99

---

D2W-16
White - (16) 10' Lengths
$699.99

---

D2T-8
Tan - (8) 10' Lengths
$399.99

---

D2T-16
Tan - (16) 10' Lengths
$699.99

---
Additional Media
Stegmeier Deck Drain Installation and Product Video



---

---

click images to enlarge