Click any pool kit below for above ground pool kit information and to customize your pool kit. We are still running our best deals ever, the time to act is now! Kick off the new year with our great savings on Above Ground Pool Kits! From now through February 23rd or while supplies last.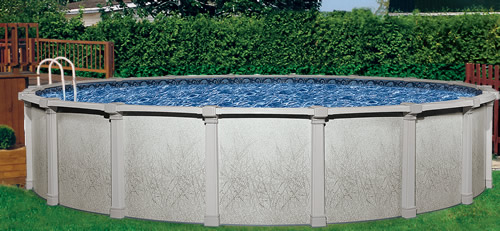 click image to enlarge
Style and quality merge together in this beautiful 54" deep steel pool. The Supreme features a huge 8" top rail along with corrosion protection that is unsurpassed by any other pool in America today. If you and your family are looking for the strength of a steel pool with lifetime durability, invest in our top of the line Supreme. Invest in Supreme this season and get in on great family fun. The pool comes standard with a widemouth skimmer. A free DVD and manual are also included to make installing the pool easy for the average homeowner. Available in a variety of round and oval sizes to fit your backyard.
8" Resin Top Seat ~ 54" Wall ~ 60 YR Warranty
Standard Pool Kit Includes: Standard Liner | Standard Filter | A-Frame ladder | Standard Maintenance Kit



Not intended for diving. These pools are designed for swimming only.

Supreme Round Pool

Supreme Oval Pool

---

click images to enlarge
| | |
| --- | --- |
| | Super-Strong Steel Construction: Steel is the strongest material used in above-ground construction. The Supreme uses extra thick gauge steel in its uprights and sidewalls to make this pool rugged and durable. The beautiful non-corroding resin 8 " top rail is injection molded for super strength and is a true round shape adding a graceful beauty to this pool. Because the top rails are resin, they are softer to sit upon and will not dent like steel top rails. All of these exceptional features are produced with expert craftsmanship resulting in a pool that is not only super strong, but fits together seamlessly with an excellent fit and finish. |
| | Corrosion-Proof Protection: For years pool manufacturers have known that a steel pool is the strongest pool. Unfortunately over time, when exposed to pool chemicals, steel pools have been prone to corrosion. The Supreme has developed advanced coating techniques that will virtually eliminate corrosion for the life of the pool. The pool wall is protected by a patented PlastiGuard™ coating process that ensures that your outer pool wall will never rust. The patented bottom system which contacts the ground (ice, rain, and snow) will never corrode and is backed by a Lifetime Warranty . |
| | The 8" resin top rail offers both beauty and function. It's a true radius design is perfectly round and made of resin that is soft to the touch and will never rust, dent, or corrode. This unique top rail is also impervious to water and chemical damage. Potent U.V. inhibitors imbedded in the resin provide additional protection, insuring decades of family fun. |
| | Stainless Steel Service Panel - Even if steel pools are coated to protect against rust and corrosion, any hole or opening in the steel, such as return lines and skimmer, will open those areas to rust from pool water and the elements. Supreme eliminates any rust or corrosion with its stainless steel panel. Every Supreme pool comes with the stainless steel service panel that protects the skimmer and return lines from rust and corrosion. Stainless Steel panel measures 53.5" x 43" and is backed by Lifetime Warranty. |