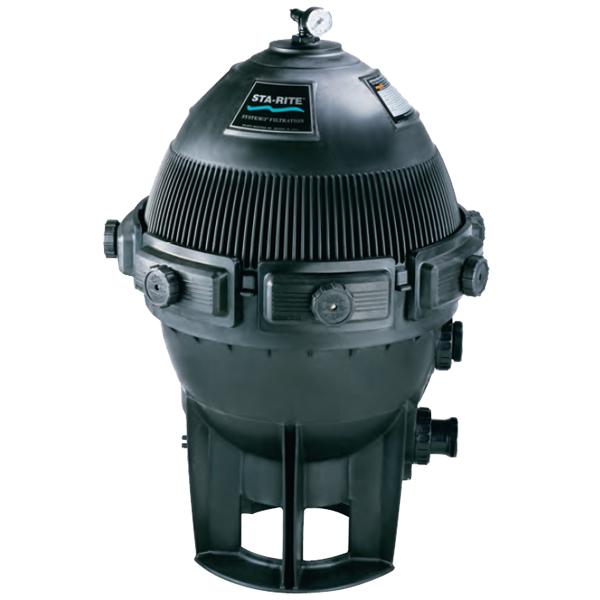 click image to enlarge
Squeaky Clean and Crystal Clear Water - that'll give you a clear idea of what it's like to have a System 3® sand filter at work in your swimming pool. This filter is designed to remove more dirt and impurities, which will make your water feel fresher and look more inviting.We've made maintenance easier, too. Cleaning is as simple as applying a little wrist action to the control valve and walking away. And you won't have to do it very often! Through innovative engineering, the filter's dirt-handling capacity is maximized, which pays off in less maintenance. But best of all, the System 3 will make your pool water sparkle in the sun and shimmer in the moonlight. Click Here for More Information
The reputation Sta-Rite® has for top-of-the-line pool equipment makes the System 3 sand filter a #1 pick with pool professionals.
Tank shape, internal component design and hydraulic flow have been engineered to evenly distribute water through the entire sand bed, which traps more dirt and extends the time between cleanings.
Unlike cartridge-style filters, the System 3's sand filter media is permanent and doesn't require frequent replacement.
The Posi-Lok™ clamps, controls, pressure gauge and operating instructions are conveniently positioned for easy access.

Product #
Description
Price

---

S7S50
Sta-Rite System 3: 2.4 Sq. Ft. Sand Filter (200#)
$639.99

---

S8S70
Sta-Rite System 3: 3.4 Sq. Ft. Sand Filter (300#)
$674.99

---
---
More Information
Less Maintenance, More Relaxation: Sand is the most widely used filtration method for swimming pools. Convenience, low maintenance and water quality are the reasons for sand's popularity. The System 3® sand filter is a time-tested favorite with pool owners for its simple maintenance, easy-to-operate control valve selector and outstanding water clarity. The biggest reason for installing the System 3 – the additional leisure time you'll spend enjoying your pool.
Low, Low Maintenance: 16-spoke filter hub evenly distributes water through entire sand layer, which greatly increases the amount of dirt the System 3 can hold. Increased dirt loading extends the time between cleanings.
One-Step Cleaning: For quick and easy cleaning, simply move the valve selector to the backwash position - that's it! In seconds, your System 3 is at work, keeping your water crystal clear.