There is only one step built tough and smart enough to be called the Aqua Staircase. Using rotational molding technology, the Aqua Staircase is a one piece step system manufactured from top quality PE resins. The Aqua Staircase derives its strength from its simplicity! Its smooth roto-molded bottom edge makes it more liner friendly than other steps on the market. The Aqua Staircase is a simple and sturdy step system for your above ground pool. Assembly takes just a few short minutes to attach the handrail and deck flange. No other assembly is required! The Aqua Staircase features stainless steel hardware and a white PVC handrail. Supports up to 700 lbs.
The Aqua Staircase steps are available in 2 variations - The King and The Duke. They both carry all of the Aqua Staircase features but in slightly different designs.

click image to enlarge

The King Step







Code
Description
Price

---

31027
The King Wedding Cake Step
$495

---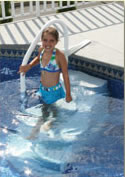 click image to enlarge



The Duke Step


Available as a $195 upgrade on select pool kits.



Code
Description
Price

---

duke
The Duke Cake Step
$429

---