Our solar blankets are made to give you the maximum heating and insulation properties, combined with long life. Durable 8-mil or 14-mil blankets are loaded with thermal bubbles that retain heat at night and on cloudy cool days. Our transparent blue cover or Magni-Clear cover helps ensure that the sun's heating rays are reaching your pool water. Your pool will be up to 15°F warmer than an uncovered pool. All our blankets are U.V.-protected so they last under the most intense sunlight.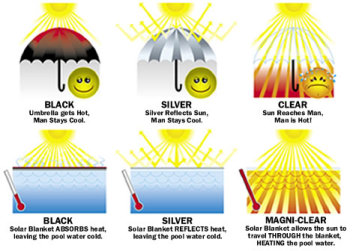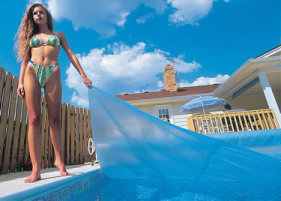 Blanket size
Blue 8 mil 5yr
Magni-Clear 14 mil 6yr

---

12' x 24'
$85
$95

---

14' x 28'
$105
$119

---

16' x 32'
$129
$145

---

18' x 36'
$139
$165

---

20' x 40'
$169
$199

---

20' x 44'
$175
$209

---

24' x 40''
$199
-

---

24' x 44'
$229
-

---

30' x 50'
$365
$419
Choose next cover size up to cover pool steps
25'x45' & 30'x50' ship via freight truck
---
Solar Ball


LIKE A SOLAR BLANKET IN A BALL! This effective solar pill keeps your pool warmer by spreading an invisible layer of non-toxic, biodegradable film. This invisible layer cuts down on one of the major pool cooling forces, evaporation. Up to 60% as effective as a traditional solar blanket. Best of all Solar Ball works all the time and there is no cumbersome solar blanket to haul around. Simply drop Solar Ball in your pool's skimmer and its special time released delivery system will keep your pool warm for 30 days. It is not affected by automatic pool covers. Saltwater compatible.
In Ground (30,000 gallons pool) Solar Ball 3 pack
$49
---
DELUXE RESIN SOLAR REEL
WILL NOT RUST OR CORRODE AS IT TAKES THE HASSLE OUT OF YOUR SOLAR BLANKET

One person can operate this reel because of its high quality bearings and unique handle. Rugged resin bases will not rust or corrode and they are super strong and lightweight. The bases are also UV inhibited to withstand the sun's harsh rays and have an attractive design that compliments any pool area. Heavy gauge aluminum tubing will not sag and its telescoping design allows one size to fit up to a 20' wide by 45' long pool. The entire reel with bases and tubing weighs under 35 lbs.

Our deluxe reel also comes with its own wheel (caster) system that makes the reel easily portable. To move the reel, simply flip down the casters and roll it away. When reeling up your blanket, slip them back out of the way and the reel stays put. Our deluxe reel fits any shape pool and comes complete with all the hardware necessary to attach the reel to the blanket. Some assembly required. Comes with complete installation instructions. Backed by a 3 year warranty.

$235
---
HURRICANE LOW PROFILE SOLAR REEL
Non-corroding aluminum reel fits under most diving boards.

Engineered for smaller hotel and motel pools, this reel is designed for heavy use. Its powder-coated heavy gauge aluminum frame is super strong, lightweight, and will never rust or corrode. The large stainless steel crank with handle at one end makes turning the reel easy. Precision sealed bearings allow a single person to effortlessly glide the solar blanket off your pool.

The Hurricane reel is built with a heavy-duty tube* that will not sag or flex. It will support solar blankets up to 24-ft. wide by 50-ft. long. Standing only 12" high, this low profile reel can fit under most diving boards for easy storage when not in use. Includes all straps and necessary hardware. Base and frame are aluminum. Optional locking casters can be added for easy portability. 1-Year warranty. Click here for Specs and Instructions for Hurricane Solar Reel.

The 4" tube will better handle the weight of the solar blanket for pools that are 40' or longer.

Fits In-Ground Pools up to 16' Wide (3" tube)
$249

---

NLA - Fits In-Ground Pools 17'-20' Wide (3" tube)
-

---

Fits In-Ground Pools 17'-20' Wide (4" tube)
$325

---

Fits In-Ground Pools 20'-24' Wide (4" tube)
$359

---

Optional Casters (4)
$45
---
"AUTO-REEL" AUTOMATIC SOLAR REEL
USE THE PRESSURE OF YOUR GARDEN HOSE TO AUTOREEL AND END THE DRUDGERY OF MANUALLY REELING UP YOUR SOLAR BLANKET.

Autoreel features include:

• Utilizes water driven pistons to automatically reel your solar blanket in less than one minute
• Water powered- uses less than 8 gallons of water
• Costs a fraction of built in automatic reel systems
• Optional Locking Casters available (casters add 2" to height)
• 1-Year Warranty
• 18' Autoreel handles up to a 36' length solar blanket
• 20' Autoreel handles up to a 40' length solar blanket

The reel comes complete with non corroding aluminum tubing, heavy duty polyethylene base and a smooth gliding bearing system. Solar blanket attachment hardware is included.

NS9515
18' Wide Max Autoreel
$339

---

NS9517
20' Wide Max Autoreel
$379

---

NS9513
Autoreel Locking Casters (set of 4)
$29
---
SOLARGUARD IN-GROUND SOLAR COVER REEL
SolarGuard Reels provide an easy and economical solution to take the hassle out of using your solar blanket! SolarGuard reels feature 20"wide wheels that roll over almost any surface and dock right into the included bases. The big hand cranks make rolling your solar blanket up effortless! Includes telescoping tubes with rib-locking design and hardware kit. 1-Year Warranty.

NS9533
16' Wide Max SolarGuard Reel
$169
Call for Details

---

NS9535
18' Wide Max SolarGuard Reel
$199
Call for Details

---

NS9537
20' Wide Max SolarGuard Reel
$215
Call for Details
More Products
---

All swimming pool kits, hot tub spas, saunas, and game tables include free curb-side shipping to most areas»
More Information

If you find a better deal, contact us and we will try to match or beat the price of any online store for a comparable product. Buy now and feel confident that you are getting our best price guarantee.