Our durable above-ground solar blankets can warm your pool by up to 15°F. Our blankets are made to give you maximum heating properties combined with long life. Our solar blankets are loaded with thermal bubbles that retain heat at night and on cool cloudy days. Our solar blankets allow the maximum amount of solar rays to reach you pool for optimal heating. All of our blankets are U.V.-protected so they last under the most intense sunlight.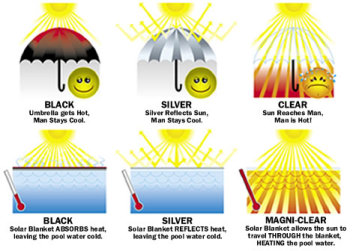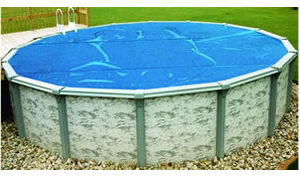 Blanket size
Blue 8 mil 3yr
Magni-Clear 12 mil 5yr
15'
$57
$65

---

18'
$69
$70

---

21'
$85
$99

---

24'
$99
$129

---

28'
$125
$179

---

30'
$145
$189

---

33'
$169
$209

Oval Pool

12' x 24'
$67
$79

---

15' x 25'
$85
-

---

15' x 30'
$89
$104

---

16' x 32'
$98
$115

---

18' x 33'
$116
$135

---

18' x 40'
$129
$159

---

21' x 41'
$149
$189
---
Solar Ball


LIKE A SOLAR BLANKET IN A BALL! This effective solar pill keeps your pool warmer by spreading an invisible layer of non-toxic, biodegradable film. This invisible layer cuts down on one of the major pool cooling forces, evaporation. Up to 60% as effective as a traditional solar blanket. Best of all Solar Ball works all the time and there is no cumbersome solar blanket to haul around. Simply drop Solar Ball in your pool's skimmer and its special time released delivery system will keep your pool warm for 30 days. It is not affected by automatic pool covers. Saltwater compatible.
Above Ground (12,000 gallons pool) Solar Ball 4 pack
$45
---
ABOVE-GROUND SOLAR REEL

This simple, affordable above-ground solar reel makes removing your solar blanket quick & easy. The simple reel base fits on almost any top rail and the handle makes this reel easy to lift & pivot. Made from U.V.-resistant resin with non-eroding aluminum tubing. Comes complete with reel, attachment straps and hardware. Backed by a 1-Year Warranty.

Pool width
Solar Reel
Deluxe Reel
18
$139
$199

---

24
$159
$219

---

28
-
$359
---
DELUXE ABOVE-GROUND SOLAR REEL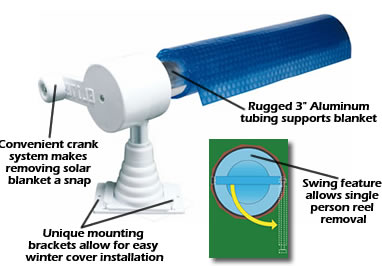 This one-person reel features special bearing systems at both ends of the reel, providing smooth, effortless removal of your solar blanket. With our reel you will use your solar blanket more often, saving money on gas while you swim in a warmer pool. The reel is anchored by rugged mounting brackets that are permanently installed on your pool's top rail (rail must be at least 6"). These mounting brackets allow you to remove your reel in the fall and install your winter cover without obstruction. The hand cranks and bases are constructed of durable non-corroding polymer material that will last and last. Our reel will fit either oval or round pools and it comes complete with solar blanket attachment hardware and installation instructions. Some assembly required. Backed by a 2-Year Warranty.
---
ABOVE-GROUND SOLAR REEL ATTACHMENT KIT
| | |
| --- | --- |
| | All the blanket clamps, cover clamp cords, and tube eye screws needed to attach your solar blanket to your reel. Fits all above-ground reels. |