Pentair IntelliFlo VS Variable Speed Pump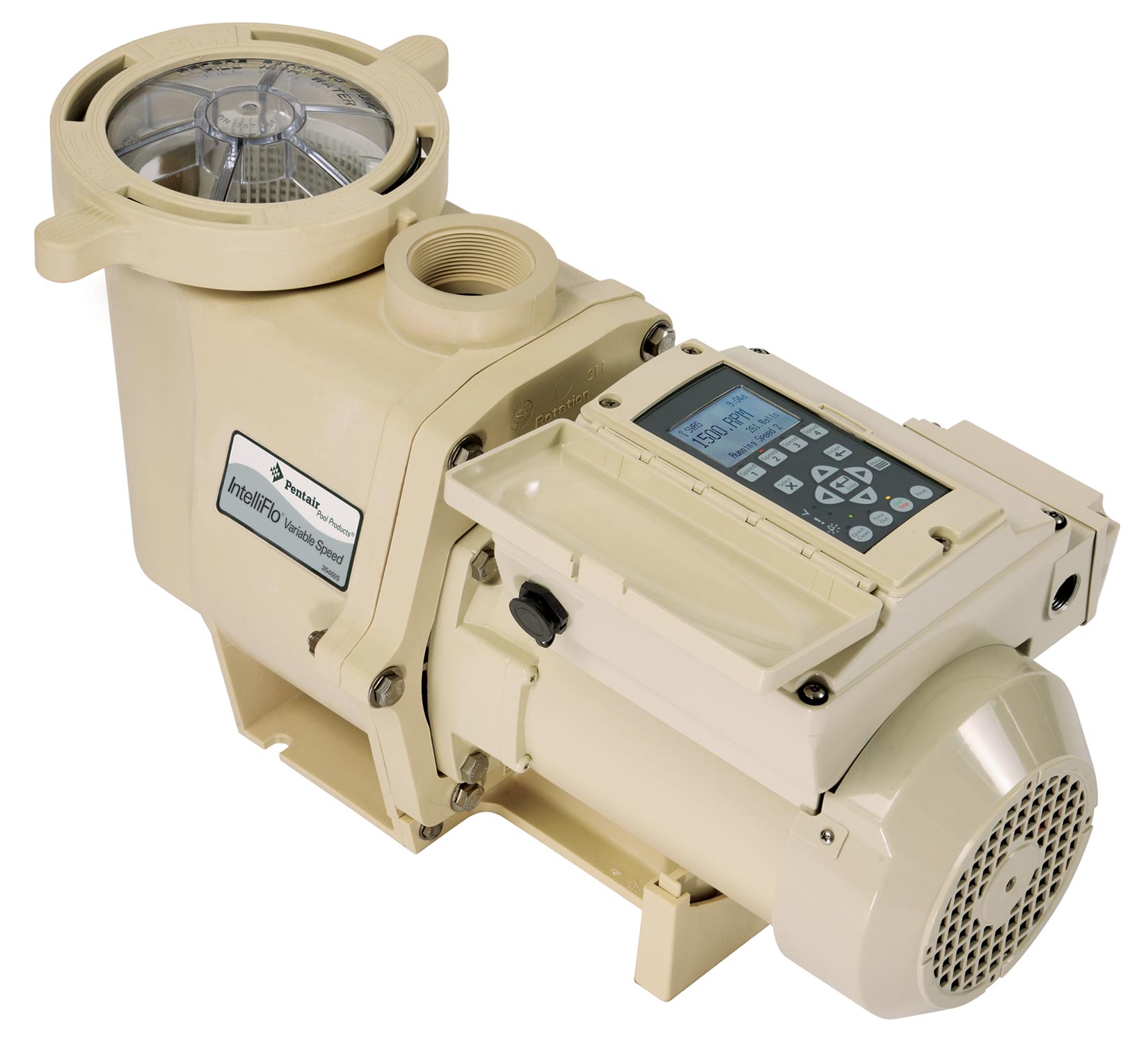 The IntelliFlo Variable Speed features 8 speeds with a programmable time clock for each speed and an LCD screen that displays actual wattage consumption and speed settings. It is the perfect solution for customers who want the savings and performance provided by dependable IntelliFlo technology with integrated time clock settings for code compliancy or installations without automation systems. With over 5 years of proven in-field reliability, this new IntelliFlo offers the same reliable performance and energy-savings that has made the IntelliFlo the best selling variable speed pump on the planet.
$1095
---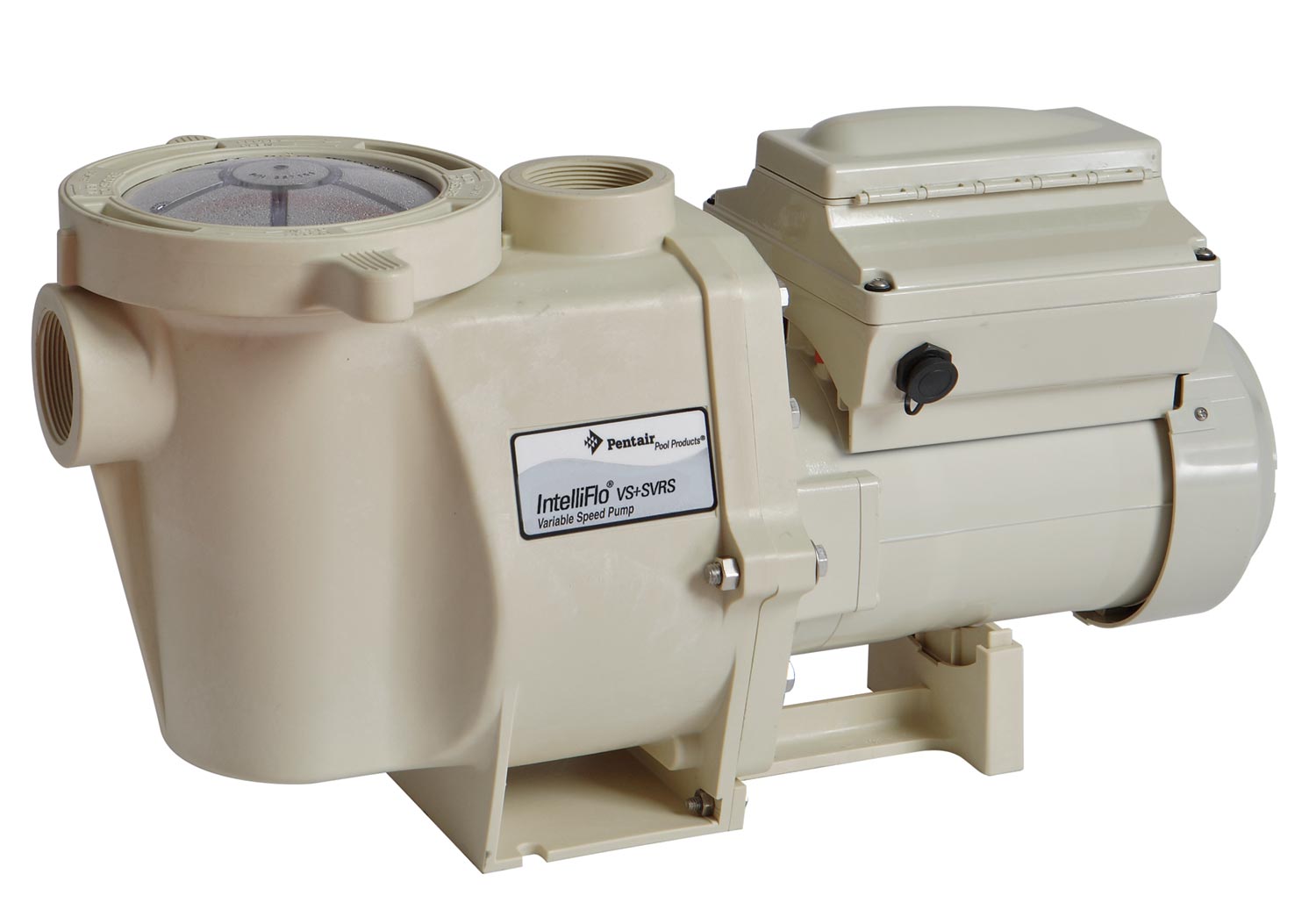 Pentair IntelliFlo VS+SVRS Pump
IntelliFlo Variable Speed pumps combine variable drive technology, onboard digital intelligence, and permanent magnet motors (used in hybrid cars) to reduce pump-related energy costs by up to 90%. The new IntelliFlo VS+SVRS model is the first swimming pool pump to feature a built-in Safety Vacuum Release System (complies with the VGB Safety Act) that detects drain blockage and automatically shuts the pump off. IntelliFlo pumps can typically cut energy use up to 90%, generally saving up to $1,500 in utility costs annually...more where rates are higher than average.
$1149
---
IntelliFlo VS Variable Speed Features
Energy savings up to 90% versus traditional pumps*
8 programmable speed settings and built-in timer to ensure the pump runs at optimum speed and duration
Ultra-efficient permanent magnet motor design reduces noise and vibration for greater efficiency and longer pump life
Dramatically quieter operation - as low as 45 decibels - about 4 times quieter than most traditional-style pumps.**
Totally enclosed fan-cooled (TEFC) design and low average operating speed makes IntelliFlo the quietest pump on earth
Fully compatible with IntelliTouch®, EasyTouch®, SunTouch® and other brands of digital pool/spa controls for managing pump, heating, lighting, spa jets and water features.
Built in diagnostics protect the pump for longer service life
---
IntelliFlo VS+SVRS Variable Speed & Safety Vacuum Release System Features
Ability to program exact pump speeds for specfic operation - filtering, heating, cleaning, spa jets, water features and more - slashes energy costs up to 90%
SVRS model complies with Virginia Graeme Baker Safety Act
Built-in diagnostics protect the IntelliFlo pump from the most common causes of premature failure - overheating, freezing and voltage irregularities (SVRS model includes priming protection as well)
No SVRS calibrations needed. Built-in SVRS cannot be turned off.
Safety lock-out feature (password protected) on SVRS model prevents pump speed settings from being changed by unauthorized personnel
Ability to set minimum and maximum speeds on SVRS model so IntelliFlo will only operate within the ranges set to help assure safe operation and long life

Compatible wth IntelliTouch®, EasyTouch® and SunTouch® pool control systems
NSF Certified, UL and ETL listed as an ASME A112.19.17.2002 Device
---