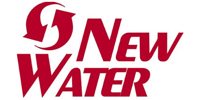 New Water uses light-weight, pre-filled chlorine pacs with erosion technology for more uniform output that makes the chlorine last longer. No more touching, measuring or smelling chlorine!
Easy-Does-It Pool Care System
The New Water System is on constant watch, dispensing low levels of chlorine to control bacteria and provide sanitizing protection for your pool. Once you've determined the correct setting for your pool just set it, then forget it!
---



Item #

new-water-ag-120




Price:

$99.99

Dispenses low levels of chlorine to control bacteria and provide sanitizing protection for pools up to 25,000 gallons.




Item #

new-water-ig-400




Price:

$109.99

Dispenses low levels of chlorine to control bacteria and provide sanitizing protection for pools up to 40,000 gallons.




Item #

new-water-105c-pac




Price:

$119.99

Pre-filled with 4.16 lbs. of Trichlor. For use in the New Water Cycler 120.

---







Item #

new-water-107c-pac




Price:

$149.99

Pre-filled with 6.16 lbs. of Trichlor. For use in all In Ground New Water Cyclers.




Item #

new-water-ig-400-kit




Save:

$19.99

Now!

$239.99

Buy the Cycler 400 and 107C Chlorine Pacs together for less! Save $19.99!




Item #

new-water-ag-120-kit




Save:

$20.00

Now!

$209.99

Buy the Cycler 120 and 105C Chlorine Pacs together for less! Save $19.99!

---