Click any pool kit below for above ground pool kit information and to customize your pool kit. We are still running our best deals ever, the time to act is now! Kick off the new year with our great savings on Above Ground Pool Kits! From now through January 19th or while supplies last.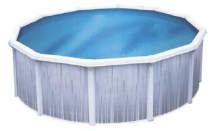 click image to enlarge
The Everest | Martinique is one of our good above ground swimming pools. This pool comes with a 30 year warranty and features 7" resin coated top seats and resin coated uprights. The galfan coating on the walls is a zinc and aluminum alloy which resists regular deterioration and water damage, while the Siltex coating used on the rails and top seats is a baked on finish that adds a superior level of protection, extending its overall life and durability. You can be sure that the Everest | Martinique will hold up to even the harshest conditions with its corrosion and oxidation resistant protections.

7" Resin Coated Top Seat ~ 52" Wall ~ 30 YR Warranty
Standard Pool Kit Includes: Standard Liner | Standard Filter | A-Frame ladder | Standard Maintenance Kit



Not intended for diving. These pools are designed for swimming only.




Everest Round Pool
Martinique Round Pool

---





Everest Oval Pool
Martinique Oval Pool

---

click images to enlarge

---
| | |
| --- | --- |
| | 7" "Siltex" textured resin coated top rails and one piece 6.5"x2.5" Siltex textured resin coated 48" or 52" tall uprights are sealed with an exclusive coating that encases the steel. A superior galvanization process "Star Galfan" which consists of zinc and aluminum, far surpass the benefits of standard coatings. Star Galfan offers greater corrosion resistance. |
| | The heavy gauge wall is deep corrugated for maximum strength, with special Galfan coating to resist corrosion far beyond that of the standard galvanization process. G90 hot dipped galvanization, a super durable premium acrylic, and printing with our custom wall designs. All for long lasting beauty which resists ultra-violet rays, chipping, cracking, and weathering. |
| | The frame is manufactured with G110 Hot dipped galvanized steel, textured resin coated in our own process which provides state of the art corrosion protection. The sub-frame is entirely interlocking to provide maximum strength. Machine threaded parts with common frame screws, joints, and rails allow for unsurpassed self installation on all pools. Superiorly designed to withstand the elements over time. |
| | Precision crafted liner stabilizer rails create an integrated support system for the pool wall and liner. A liner lock creates a snug fit between the liner and stabilizer rails, creating a integral ring of support and strength. |
| | The specially formulated virgin vinyl liner is custom manufactured for a perfect fit for all pool sizes. |
| | Exclusive one piece gasket wall protector prevents wall rusting and corrosion at the skimmer opening. The special double-sided skimmer gasket and one piece return inlet prevents water from coming into contact with the steel wall and gives added protection for the wall at the skimmer and return. |
| | All top caps are made with impact resistant, resin compounds, designed to withstand exposure to the sun's ultra-violet rays, and temperatures from ARCTIC to TROPICAL, while creating extra strength by locking the top rail to the upright with their superior two piece design. |