Build your own inground swimming pool and save money. Click any pool kit size below for more information. Buy now for our April Showers Pool Savings! Don't let the April showers ruin your springtime fun - get your pool ordered and choose from two deluxe 27/27 liners. Don't be fooled by 27/20 liners which offer 27mil protection on the wall - but only 20mil material on high traffic areas like the floor! Enjoy our great savings until April 23rd!
---

Choose From These 2 Liners!
---

---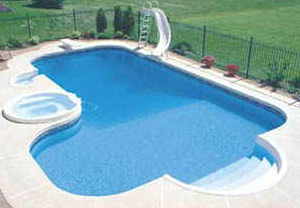 Build your own L-Shape swimming pool and save money. L-Shape pool kit prices include: walk-out steps, handrail, pool panels, adjustable braces, bolts and hardware, re-bar stakes, aluminum coping, swimming pool liner, skimmer, 2-main drains, 3 pool returns, Hayward 1.5 hp pump, 24" filter, ladder, maintenance kit, rope kit. Click on a L-Shape pool size to customize your pool.
The basic swimming pool kit includes everything you need to build and operate your swimming pool except sand, concrete, PVC piping, an electrician and water. Click here for swimming pool construction information. Add options like start-up chemicals, a pool light and an automatic pool cleaner at a discounted price. PVC piping can be purchased at you local plumbing supply store or added to your swimming pool kit by clicking the prices button above.
---
Standard Swimming Pool Kits Include:
Popular Pool Kit Upgrades