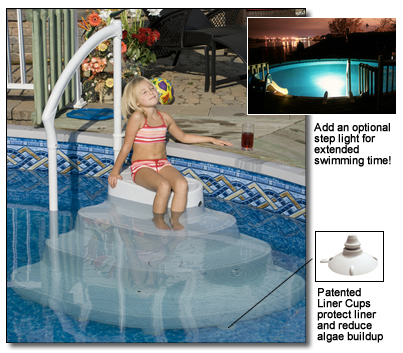 THE POOL INDUSTRY'S LARGEST & STRONGEST DROP IN STEPS

Make getting into & out of your pool this season easier & safer with the Majestic Above Ground Pool Step. These rugged steps feature a durable polyethylene construction that is super strong and super stable, a sturdy handle & graceful curves make it a beautiful addition to any pool. A ladder (Part No. NE1105) can be added to the step for non-deck applications. It adds safety and stability entering and exiting your pool. The outside ladder features a pivot and locking system to prevent unwanted pool access when ladder is not in use. Various lights can also be added to the step when checking out.


---

NE1100
Majestic 8000 Step
$499

---

NE1105
Classic Outside Ladder for Majestic Step
$229

---

NA402
4' x 5' Deluxe Step Pad
$69.99

---
Additional Majestic Step Features
•Removable ballast keeps step in place. Allows for easy winter put away w/out sandbags.
•Patented liner cups protect your liner & reduce algae buildup
•Measures 58"wide x 44" deep x 43 ½" high to fit any above ground pool 48"-54" deep.
•Ships by truckline- allow up to 2 weeks for delivery
•Up to 500 lb capacity
•2-Year Warranty on Step and 1-Year Warranty on all hardware.